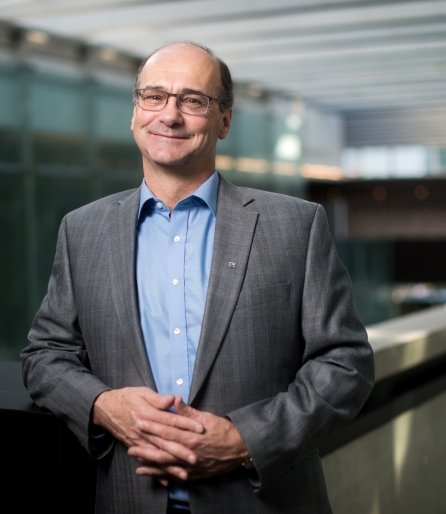 Robert Myers
Biography
Robert Myers is one of the leading theoretical physicists working in the area of quantum fields and strings. He received his Ph.D. at Princeton University in 1986, after which he was a postdoctoral researcher at what became the Kavli Institute for Theoretical Physics at the University of California, Santa Barbara. He moved to McGill University in 1989, where he was a Professor of Physics until moving to Perimeter Institute and the University of Waterloo in the summer of 2001.
Professor Myers was awarded the Herzberg Medal in 1999 by the Canadian Association of Physicists for seminal contributions to our understanding of black hole microphysics and D-branes. He is also the 2005 winner of Canada's top prize in theoretical and mathematical physics awarded by the Canadian Association of Physicists and the Centre de Recherches Mathématiques. More recently, he was awarded the 2012 Vogt Medal by the Canadian Association of Physicists and TRIUMF for outstanding theoretical contributions to subatomic physics. In 2006, he was elected a Fellow of the Royal Society of Canada. He is one of the few people to have won the first-place award in the Gravity Research Foundation Essay Contest more than once (winning in 1995 and 1997). Past winners of this contest, which was established for the purpose of stimulating thought and encouraging work on gravitation, include Stephen Hawking and Roger Penrose. Professor Myers was named as one of only three Canadian physicists on the list of the World's Most Influential Scientific Minds 2014, the Thomson Reuters list of top 1% of researchers who wrote most cited papers in their field over the period 2002 to 2012. In fact, he appeared again as the only Canadian physicist in the next edition of this list, the World's Most Influential Scientific Minds 2015, covering the period 2003 to 2013.
Professor Myers is also an associate fellow of the Cosmology and Gravity Program of the Canadian Institute For Advanced Research, a uniquely Canadian enterprise devoted to networking top-flight researchers from across the country. From 2001 to 2005, he was a founding member on the scientific advisory board of the Banff International Research Station, a facility devoted to hosting workshops and meetings in the mathematical sciences and related areas. Professor Myers has also served on the editorial boards of the following research journals: Annals of Physics (January 2002 – July 2012) and Journal of High Energy Physics (May 2007 – present). Though his current activities are centered at Perimeter Institute, Professor Myers remains active in both teaching and supervising graduate students with his cross-appointment as an Adjunct Professor in the Physics Department at the University of Waterloo.
All sessions by Robert Myers